Together with local partners, I offer various types of service and maintenance of your instruments as well as more advanced repair.
Contact me or my partners Marcus Trygg Instruments and Christers Gitarrfix for help!

Examples of advanced service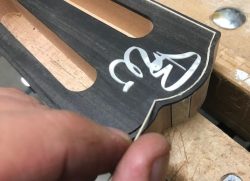 Inlays/intarsia If you want to create a personal look for your guitar, we also perform designed inlays of wood, mother of pearl or other materials. For this work, we use cnc machine with high precision to achieve precise work with complicated patterns. Normally we make inlays on the fretboard in the space between the frets or on the flat part of the headstock. Alternatively, we remove the frets in connection with refretting in order to make a larger inlay on the fretboard.
New fretboard, is the fretboard worn, damaged or if you simply want to replace it with a new in beautiful wood, we can offer to mill away the existing and glue a new one. Then you can take the opportunity to level the neck, create a personal inlay as desired. An alternative is to take the opportunity to replace the frets to a True Temperament system (truetemperament.com) provided that the shell length matches your guitar neck.